Ophthalmic Imaging: from Theory to current Practice
Friday 30th September 2016
, New Cap Event Center � PARIS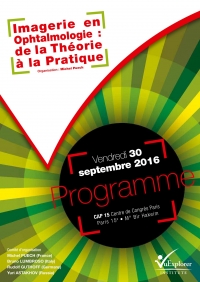 Congress venue
---
New Cap Event Center
3 Quai de Grenelle
75015 PARIS, FR
Phone : +33 1 44 37 42 00
Fax : +33 1 44 37 42 42

Accommodation
---
Novotel Paris Tour Eiffel****
61 Quai de Grenelle
75015 Paris (France)

Tel: +33 (0)1 40 58 20 00
H3546-RE4@accor.com
Mercure Paris Tour Eiffel****
20 rue Jean Rey
75015 Paris (France)
Tel: +33 (0)1 45 78 50 00
H2175@accor.com
Pullman Paris Tour Eiffel****
18 avenue de Suffren
75015 Paris (France)
Tel: +33 (0)1 44 38 56 00
h7229@accor.com
Ibis Paris Tour Eiffel***
2, rue Cambronne
75015 Paris (France)
Tel: +33 (0)1 40 61 21 21
h1400@accor.com
Public transportation
---
CAP15 metro station: Bir-Hakeim (line 6)

from Roissy/Charles de Gaulle airport to CAP15

RER B (stop Châtelet-les-Halles) + RER A (stop Charles de Gaulle Etoile) + Metro line 6 (stop station: Bir-Hakeim)
from Orly airport to CAP15

RER B (stop Châtelet-les-Halles) + RER A (stop Charles de Gaulle Etoile) + Metro line 6 (stop station: Bir-Hakeim)
Presentation
You are invited to the European congress ''Ophthalmic Imaging: from Theory to Current Practice'' on Friday 30th September in Paris, France.
Congress venue: CAP 15 Congress Center (near the Eiffel Tower ).
This one day congress, only dedicated to ophthalmic Imaging will include :


Theoretical courses: OCT, Anterior Segment Imaging, Visual Field, Ultrasound, IOL Calculation, Corneal Topography, Imaging for IVI and Laser Treatments, Radiology, Electrophysiology, …
· Workshop sessions (on main OCT and Ultrasound units)
· 1 Plenary session
· Industry symposia
· 1 special day for ophthalmic team (orthoptists, nurses, radiologic technicians…).
Most experienced individuals can choose either a special day or regular courses.
We cordially invite you to attend this special imaging congress with your staff to upgrade our use of imaging technology by sharing our various experiences.
Goals
To improve the theoretical basis and practise in Imaging technics.
Prices
Ophthalmologist / 380 € before 22/08/2016 after 410 €
Radiologist / 380 € before 22/08/2016 after 410 €
Orthoptist, Technician / 190 € before 22/08/2016 after 210 €
Trainee, Resident, Fellow / 210 € before 22/08/2016 after 240 €
Technician / 190 € before 22/08/2016 after 210 €